Skip to content
FREE & FAST DELIVERY

ON ALL ORDERS ACROSS

IRELAND
${product.title}
${product_meta.subtitle}
(${product_meta.number_of_reviews}) ${content_options.reviews_text}
(${product_meta.number_of_reviews}) ${content_options.reviews_text}
${campaign_content_options.sale_ends_text}
${ props.hours }${campaign_content_options.hour_abbreviation_text} ${ props.minutes }${campaign_content_options.minute_abbreviation_text} ${ props.seconds }${campaign_content_options.second_abbreviation_text}
${campaign_content_options.bought_today_text}
${campaign_content_options.lto_text}
${discountValue(product_meta.quantity_bundles["price_" + selected_quantity], discount_percentage) | format_money }/${content_options.each_text} ${get_each_price(selected_variant) | format_money }/${content_options.each_text} ${ discountValue(variant_meta[selected_variant.id].subscriptions.discount_variant_price, discount_percentage) | format_money }
${campaign_content_options.free_shipping_text} 10,441 ${campaign_content_options.bought_text} Save ${ (selected_variant.compare_at_price - discountValue(selected_variant.price, discount_percentage)) | format_money } ${campaign_content_options.save_text} ${(product_meta.quantity_bundles.price_1 - discountValue(product_meta.quantity_bundles.price_6, discount_percentage)) * 6 | format_money } ${campaign_content_options.save_text} ${((product_meta.quantity_bundles.price_1 - discountValue(product_meta.quantity_bundles.price_3, discount_percentage)) * 3) + 2000 | format_money } ${campaign_content_options.save_text} ${ product_meta.quantity_bundles.price_1 - discountValue(product_meta.quantity_bundles.price_1, discount_percentage) + 2000 | format_money } ${content_options.save_text} ${ (selected_variant.compare_at_price - (discountValue(selected_variant.selling_plan_allocations[0].price, discount_percentage)) + get_hn_savings_amount(selected_variant.title)) | format_money } ${campaign_content_options.save_text} ${ (selected_variant.price - (discountValue(selected_variant.selling_plan_allocations[0].price, discount_percentage)) + get_hn_savings_amount(selected_variant.title)) | format_money }
${block.title}
${block.review_1_author}
${block.review_2_author}
${block.review_3_author}
Our Promise
60-day Money-Back Guarantee

Made in the UK

Non-GMO & Pesticide-free

No artificial flavours

Vegan Friendly

Naturally Dairy-Free
Boost your mood, simply and naturally.
Our Ashwagandha Complex delivers potent doses of essential vitamins and nutrients to help improve your psychological and physical health, from improving energy and focus to alleviating stress and low mood.
Reduces stress and anxiety
Our Ashwagandha Complex helps to establish better mental health by supporting psychological health. This can help to alleviate and manage stress and anxiety, improve energy levels and balance mood.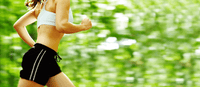 Supports healthy weight management
Our Ashwagandha Complex is packed with powerful antioxidants that are essential for healthy weight management. Ashwagandha can help boost metabolic functioning and reduce inflammation.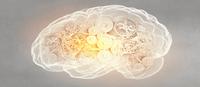 Improves memory, learning and focus
Our Ashwagandha Complex contains ingredients that help to improve memory, learning and focus by protecting the body from oxidative stress and promoting better cognitive functioning.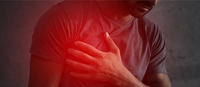 Supports cardiovascular health
Our antioxidant-rich formula helps to promote cardiovascular health by supporting heart health and maintaining healthy red blood cells.

Ingredients
The Ingredients in our Ashwagandha Complex
Our formula features a powerful blend of natural ingredients, delivered in clinically-effective doses, that help to reduce stress, tiredness and low mood.

KSM-66 Ashwagandha
750mg extract (equivalent to 9,000mg)
Ashwagandha is known for its positive effect on mental health and relaxation. It contributes to emotional wellbeing by preventing stress and low mood, improving energy levels, improving sleep quality, and more. We use KSM-66, which is the highest quality Ashwagandha extract available; it has the most clinical studies performed of any Ashwagandha available on the entire market.
Rhodiola Rosea
60mg
Rhodiola Rosea helps to improve overall mood by alleviating emotional stress, fatigue and tiredness. The ingredient also helps to ward off stress-related headaches and support cardiovascular health.

B Vitamins
Our product contains several essential B Vitamins: Vitamin B1, Vitamin B2, Vitamin B3, Vitamin B6 and Vitamin B12, which support normal psychological functioning, reduce fatigue and tiredness, alleviate stress and anxiety, fight low mood and boost energy levels.

Passion Flower
100mg
Passion Flower has a calming effect on the body. It helps to regulate sleep and alleviate stress.

Black Pepper Extract
0.21mg
Studies have shown that Black Pepper Extract can help to significantly improve absorption of ingredients.
Maximum potency
Our Ashwagandha Complex is made with the most bioavailable and highest quality Ashwagandha available on the market, KSM-66, to ensure optimal absorption and great results.
Get Yours Now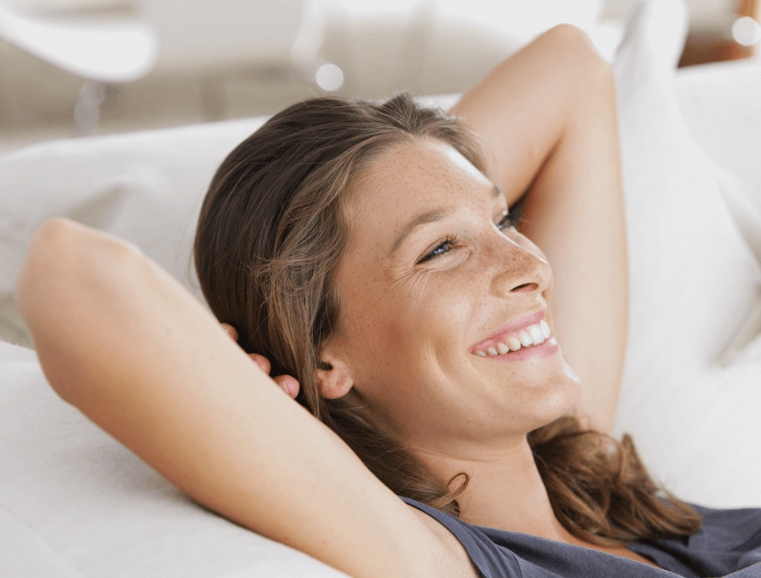 Contributes to optimal relaxation
Our Ashwagandha Complex is designed to help support relaxation, mental/cognitive and physical wellbeing.
Get Yours Now
Contains complimenting ingredients
Most ashwagandha supplements on the market don't include other complimenting ingredients, which when combined work synergistically together to improve the overall results of the product. We have worked tirelessly to formulate the ultimate Ashwagandha Complex' to bring you the best results possible.
Get Yours Now
Testimonials
Here's what our customers have to say
Over 

413

Satisfied Customers with 

5-star reviews.
Love love love!
"As someone who has had terrible anxiety for over a decade, I would have never believed that a natural product like this could work for me. I was so wrong! My anxiety has diminished so much, I'm sleeping great and I find it has helped a lot with my food cravings that were stress driven."
Verified Customer
Natural first
"I always try holistic medicine before turning to medication, which is why I was researching Ashwagandha for general anxiety and that's how I found Hey Nutrition. Excellent product and the customer service is 5 stars all the way. "
Verified Customer
I did my research
"This is an excellent supplement that actually works. I searched for a long time to find an Ashwagandha that had a good dose of KSM-66 because i read that it is the most studied type of ashwagandha and it works the best. I'm very pleased with my purchase"
Verified Customer
Arrived quick and the real deal
"I have tried other Ashwagandha products but they simply don;t compare to this one. This is the real deal and you feel a difference compared to the other brands. Arrived in 2 days too!"
Verified Customer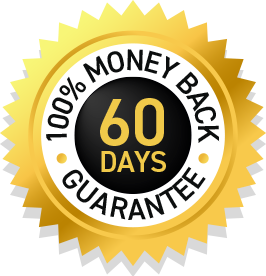 Order Risk-Free now
"We're confident you will love your results using our Ashwagandha Complex supplement, which is why we're pleased to offer a RISK-FREE 60-day money-back guarantee on all orders.
If you aren't 100% satisfied with your results, we will give you a 100% hassle-free refund, no questions asked."
Founder at Theonia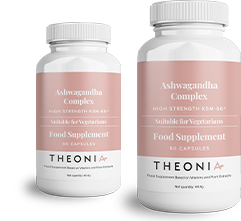 CHOOSE YOUR BUNDLE
Frequently Asked Questions
If you can't find the answer below, please don't hesistate to Contact Us.
What ingredients does this product contain?
+
-
List of ingredients: KSM-66® [Ashwagandha root extract 12:1 (Withania somnifera (L.) Dunal, root)], glazing agent (hydroxypropyl methylcellulose), L-Tryptophan, bulking agent (microcrystalline cellulose), passion flower extract 4:1 (Passiflora incarnata, flower), Rhodiola rosea extract 10:1 (Rhodiola rosea L., root), nicotinamide (niacin), pyridoxine hydrochloride (vitamin B6), riboflavin (vitamin B2), thiamin hydrochloride (vitamin B1), black pepper extract 60:1 (Piper nigrum L., fruit), methylcobalamin (vitamin B12)
How many capsules should I take each day?
+
-
We recommend that you take 2 capsules of our Ashwagandha Complex daily, preferably at mealtime.
Is it vegan and vegetarian friendly?
+
-
Yes. Our Ashwagandha Complex is suitable for both vegetarians and vegans.
Why is KSM-66 Ashwagandha superior?
+
-
KSM-66 Ashwagandha is the most well-researched and studied Ashwagandha on the market. It is the most potent and absorbable Ashwagandha root extract available, and unlike others, it retains all the natural constituents of the herb and it is easily absorbed into the bloodstream.
KSM-66 Ashwagandha is 100% natural and organic, kosher and halal friendly, free of gluten and GMOs.It is also organic, both kosher and halal friendly and free of GMOs and gluten.
What is Theonia's return policy?
+
-
We offer a 60 day money-back guarantee. If you would like to return your order, then please reach out to us and we will issue you a returns number to include with the package being returned along with further instructions.
When will my order be dispatched to me?
+
-
Your products will be dispatched within 1 working day of placing your order.
Get Your Ashwagandha Complex Today!
It's zero-risk with our 60 day satisfaction guarantee.
Order Now